Bits of Future: Food for All – Hypercritical Separation Technology for Food and Energy Security – Mendrisio – June 28, 2014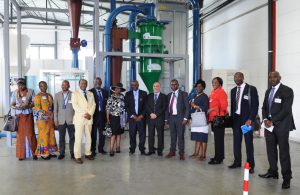 On June 28, 2014, the new HYST system was inaugurated in Mendrisio (Canton Ticino, Switzerland). The realization of this industrial macine – financed by the members of Scienza per Amore, designed and built by the Company BioHyst – finally gives green-light to the international cooperation project Bits of Future: Food for All. The plant will in fact be used to process biomass from the African Countries.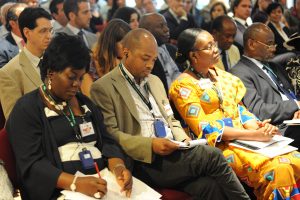 The event was attended by the Diplomatic Representatives of ten African Countries: Benin, Burkina Faso, Burundi, Ivory Coast, Ghana, Liberia, Nigeria, Somalia, Tanzania and Uganda. Also several entrepreneurs, the media and all the financing partners of the HYST were present.
Engineer Vito Pignatelli (ENEA) – Coordinator of the Biomass and Bioenergy Technologies department (Technical Unit for Renewable Energy Sources) – who has been following the development of the technology for years, also took part in the conference.
The representative of the Ambassador of Somalia, Mr. Awes Awes, stressed that his presence at the event confirmed his Country's interest in the project.
Ghana Ambassador and permanent member of the WFP, H.E. Evelyn Anita Stokes-Hayford, reminded the room of her solidarity to the association Scienza per Amore. She also stated: "We are talking about feeding the whole world, not only Africa."
Other Representatives of the African Countries agreed with the Ambassador of Ghana and expressed their appreciation while renewing their interest in Bits of Future.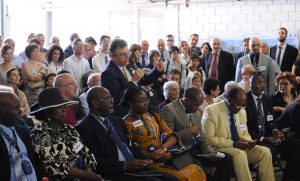 The event was also an opportunity to present the artistic initiative A Bridge Connecting Continents, with which the VersOltre association intends to support Bits of Future.
In the afternoon the guests were accompanied to the Balerna showroom which hosts the HYST machine. Its technical characteristics were illustrated. With the machine turned on, its process was described step by step and all the technical clarifications requested by the attendees were provided.