The Commissioner of DREA meets with Scienza per Amore – Addis Ababa – July 31, 2014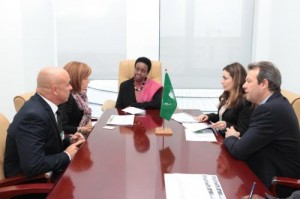 On July 31, 2014 Her Excellency Rhoda Peace Tumisiime – Commissioner of the Department of Rural Economy and Agriculture (DREA) of the African Union – received a delegation of Scienza per Amore at her office in Addis Ababa, Ethiopia.
Scienza per Amore introduced the HYST (Hypercritical Separation Technology) to the Commissioner. The use of the technology represents the foundation of Bits of Future: Food for All. Seven Member States of the African Union (Burkina Faso, Burundi, Cameroon, Congo Brazzaville, Rwanda, Senegal and Somalia) are already part of the project, the aim is to have all the AU Member States participate in it.
The project aims to provide new technologies to increase growth and prosperity in the targeted areas through the optimization of local resources. The introduction of the HYST in Africa will favor a strong economy based on synergies between industry, agriculture and trade. In turn, this will stimulate new investments.
In this regard, Mrs. Tumusiime confirmed the AU Commission's and more specifically the DREA's commitment, to a long-lasting collaboration with Scienza per Amore. The latter will continue its collaboration with the other Member States of the AU. In addition, the DREA will invite Scienza per Amore to showcase the HYST and the Project at the forums coordinated by the AUC-DREA, in order for the AU's Member States to evaluate the benefits and the possibility participate in the initiative.
This creates great prospects for the process of implementing the Malabo Declaration in the Africa Accelerated Agricultural Growth and Transformation Goals – 3AGTG 2025 (Accelerated Growth and Transformation African Agriculture) to support the Comprehensive African Agriculture Development Program (CAADP).