Presentation of the cooperation project "Bits of Future: Food for All" – March 2, 2011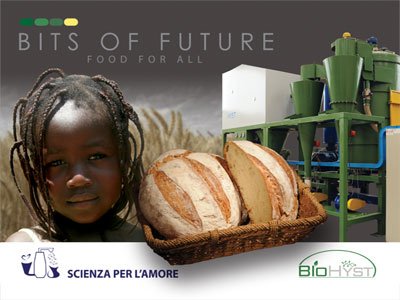 On March 2nd, 2011, the "Bits of Future: Food for All" Project was presented to interested African States, humanitarian and scientific organizations, potential industrial partners, and national and international media.
Government Representatives of Senegal, Burkina Faso, Ghana, Ivory Coast, Somalia, Mozambique and Puntland participated in the meeting, which was held at the Sheraton Golf Parco de' Medici, in Rome.
After the excellent results obtained with raw materials widely available in Europe, the association Scienza per Amore and the company BioHyst will proceed with experiments on biomass typical of the African States, which will lead to installing the first local units for biomass-processing. The Bits of Future project will thus offer the possibility of transforming local crops waste into flour suitable for human and animal consumption, at a very low cost and with zero environmental impact.
Representatives of UNIDO (United Nations Industrial Development Organization), IFAD (International Fund for Agricultural Development), ENEA (National Agency for New Technologies, Energy and Sustainable Economic Development) and ITALMOPA (Italian Association of Industrialists) also attended the presentation.