Forever Young Energy – Rome – September 16, 2011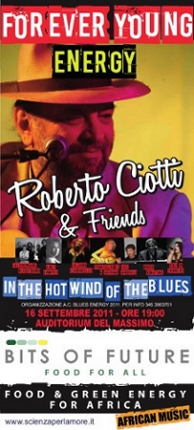 The Association Scienza per Amore presented the project Bits of Future: Food for All during Forever Young Energy, a music and art event which took place in Rome on September 16th, 2011. The Auditorium del Massimo of Rome hosted the event. Forever Young Energy was part of Zero Emission, an initiative dedicated to renewable energy, ecological sustainability, the fight against climate change and emission trading.
An evocative performance of traditional African music and dance introduced Roberto Ciotti & Friends' blues concert: a "harmonic" environment to present Bits of Future: Food for All. The project aims to support sustainable development in Africa, by optimizing agricultural resources in developing areas through HYST based plants in order to create a synergic interaction between agriculture, industry and animal husbandry.
Several diplomats attended the meeting:
H.E. Evelyn Anita Stokes-Hayford – Ambassador of Ghana;
H.E. Nur Hassan Hussein – Ambassador of the Republic of Somalia and head of the Somali delegation to the European Union;
H.E. Barzanji Abucar Ahmed Suldan – Ambassador at Large of the Republic of Somalia;
H.E. Mumtaz Kassam – Ambassador of Uganda;
Dr. Francesco Alicicco – Honorary Consul of Rwanda;
Mohammed Sheriff – Liberian Embassy;
Mrs. Malikopo P. Rakootje – First secretary of the Kingdom of Lesotho in Italy and permanent representative at FAO, WFP and IFAD;

Ibrahima Diao – Embassy of Senegal;
Yaroslov Moshkola – First secretary of the Ukrainian Embassy;
Mme Celestine Zanga – Wife of the Cameroonian Ambassador to the Holy See, and founder of the REFACMIC.